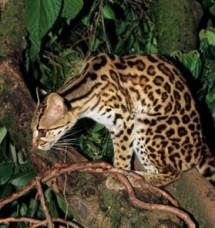 The first cross between an Asian Leopard Cat and a Domestic Cat was recorded in the United States in the early 1960's. 
During the late 1970's in California, genetic research was begun using the wild Asian Leopard Cat. F1 (or first generation foundation offspring) females were created as a result of this research program and foundation breeding programs were begun. The first Bengal Cat was registered with the International Cat Association (TICA) in 1983. 
The ASIAN LEOPARD CAT is a small jungle cat that can be found in the forests of Southern Asia, India, China, Korea, and has also been reported to live in Taiwan, Philippines, Borneo, Java, Bali and Sumatra. Because of his smaller size, the Asian Leopard Cat is a scavenger and has been reported to be somewhat nocturnal. They have a fondness for playing in the water and are expert swimmers. Asian Leopard cats come in a variety of different colors and spotting patterns. 
FOUNDATION BENGAL CATS are the first three generations resulting from the Asian Leopard Cat/Bengal cross. The first generation is referred to as an F1, the second an F2, and the third generation an F3. Male Bengals born of these first generations are sterile, however the females remain fertile. F1 Bengal Cats should be owned and raised only by experienced breeders, but the remaining Bengal generations make marvelous family companions. 
DOMESTIC/LATER GENERATION BENGAL CATS are 4 generations or more away from the Asian Leopard Cat. They are registered and referred to as "SBT" Bengals. Both male and females born of these generations are fertile. Bengal females are smaller than males and tend to weigh in the 7-10 pound range. Males are substantially larger and often obtain weights of 15 pounds or more. 
Being the best of both worlds, these man made, loudly coloured, leopard spotted wonders are perfect family companions